Looking for new Toyota cars in Campbell River? You're at the right place. We have the entire Toyota vehicle lineup here, including the new 2019 Toyota Avalon and Corolla Hatchback. Plus the best deals on a huge selection of 2018 Tundra, Tacoma, Corolla, RAV4, and Prius Prime! Our New Vehicle Inventory is accessible for customers anywhere in BC, especially in Campbell River, Nanaimo, Duncan, Victoria, and Comox Valley. Searching for specials on new vehicles? Check out our new vehicle specials page!
Our Inventory
We offer every Toyota vehicle available in the Canadian market, and our inventory of new Toyota cars in Campbell River is always being updated with new arrivals. If you're looking for the 2017 Toyota Tundra, Tacoma, Corolla, RAV4, or Prius in Campbell River, then you'll find a ton of those models here at Campbell River Toyota in Campbell River!
Start Browsing!
Ready to get going? Start browsing our huge inventory of new Toyota cars in Campbell River, like the 2018 Toyota Tundra, Tacoma, Corolla, RAV4, and Prius in Campbell River! Start browsing our New Vehicle Inventory here!
At Campbell River Toyota, your way is our way. Would you rather come see us in-person and browse our amazing showroom? We're located at 2785 North Island Highway, Campbell River, BC V9W 2H4. We're also available to answer any inquiries you might have for any reason, in which case you can phone us at 250-287-9527. Click here for our other contact details.
The 2018 Toyota Tundra


With its combination of livability and immense capability, the 2018 Toyota Tundra lives up to the most demanding needs. And with 11 Tundra models available, you're sure to find something to match those needs. The 2018 Tundra has been redesigned with to include Toyota's Safety Sense! New for 2018, the Tundra features LED high beams, low beams, daytime running lights and fog lights to showcase a bold, powerful exterior.
The 2018 Toyota Tacoma


If what you need is a new truck that works as hard as you do, then take a test drive with the new 2018 Toyota Tacoma. This pickup is meant for drivers who love to be outdoors and just get stuff done. It's powerful, tough, and packed with useful features to help you achieve everything at work or on your to-do list. New to 2018, the Tacoma gets Toyota's powerful Safety Sense!
The 2019 Toyota Avalon


The Toyota Avalon has long been Toyota's flagship vehicle. It showcases class leading luxury, connectivity and value. The 2019 Toyota Avalon continues to exceed our customers expectations. It brings to the table class leading safety features like Toyota Safety Connect, Toyota Safety Sense adaptive LED Cornering lamps and Dynamic Auxiliary Turn Signals. The 2019 Avalon is the first Toyota vehicle to come equipped with Apple CarPlay! Keep you eye on our website for more details on when we expect our first 2019 Toyota Avalon.
The 2019 Toyota Corolla


The 2019 Toyota Corolla is here to redefine your expectations of what a small car can be. With even more standard features and technology like Toyota's Safety Sense, you'll be truly connected with your Corolla. And with its sporty exterior, the Corolla offers a truly engaging driving experience. Add in an excellent fuel economy along with legendary Toyota reliability, and you've got a winner.
The 2018 Toyota Rav4


The 2018 Rav4 builds on an proven "go anywhere" platform. The Rav4 Trail Edition offers a more sporty look and towing capacity of 3500lbs! With its 2.5L four-cylinder engine and 6-speed Automatic transmission, it delivers superior fuel economy, and with available all-wheel drive, it can handle gravel roads and winter weather without breaking a sweat. This 5-seater is adorned with outstanding standard interior features such as Bluetooth connectivity.
The 2018 Toyota Prius Prime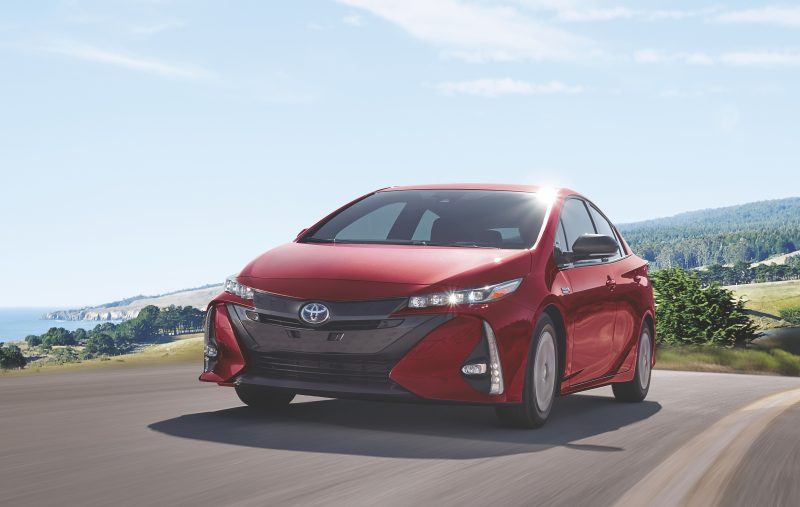 The 2018 Prius Prime is the next progression of Toyota's legendary Prius Lineup. The Prime is a logical progression for traditional Hybrid vehicle to Plug-in Electric Hybrid Vehicle (PEHV). With fuel prices at a high, there has never been a better time to drive away in a Prime; it is eligible for up to $2500 in government rebates. About 90% of Toyota Prius vehicles purchased in the past 10 years are still out there on the road, and that makes it one of the greatest investments you'll ever make!